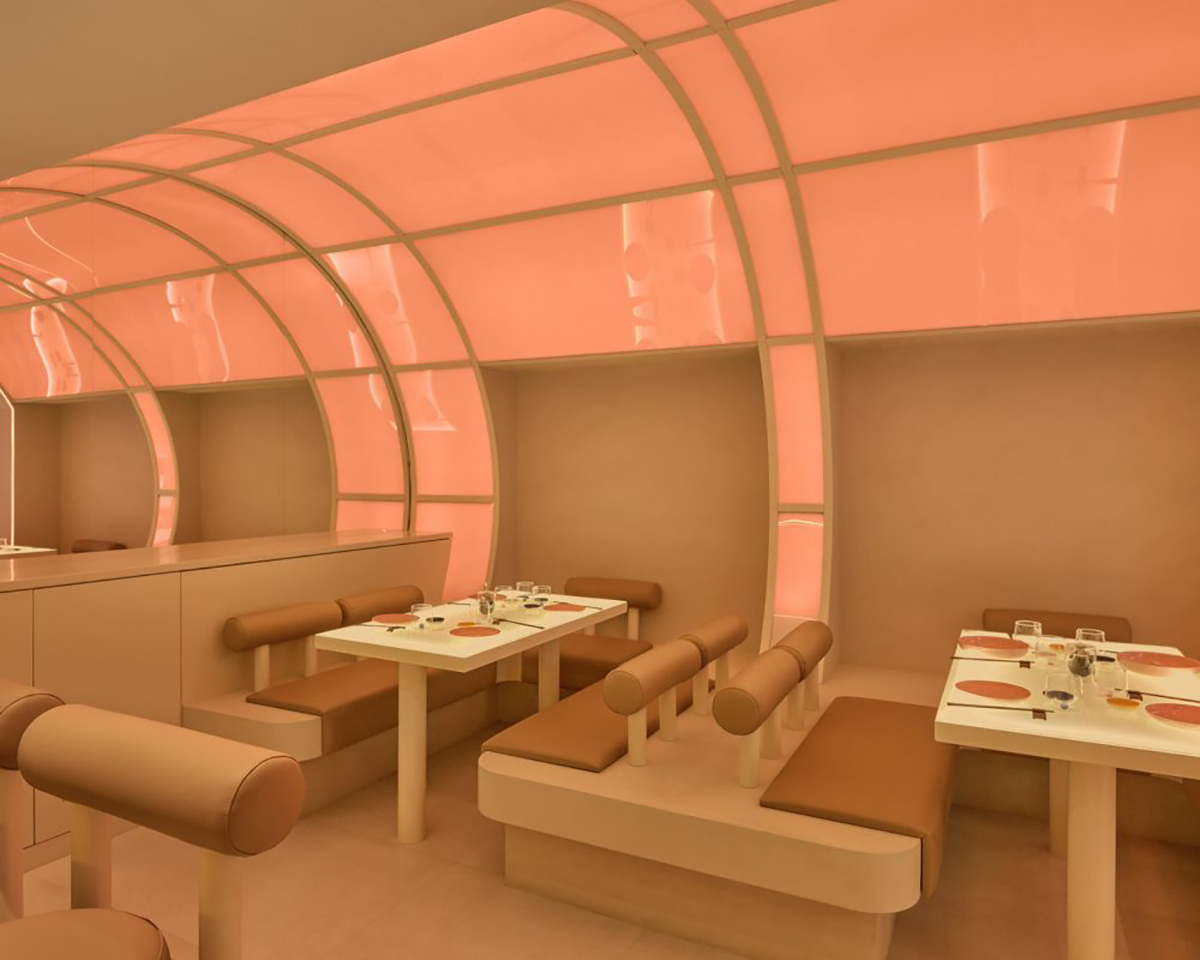 Designed by creative director Ana Hern of Valencia, Spain-based Masquespacio, the latest outlet of the Ichi Station sushi bar chain is located in a historic building on Via Solferino in Milan. It is a yummy, futuristic capsule of rounded peachiness.
The chain's founder, owner and CEO, Yango Zhang, had developed the spaces for the chain's other restaurants (8 in Milan, 1 in Turin), mosty known as take-out restaurants, but for the latest iteration, he wanted more of an unique environment for dining in.
The 80 square-metre (861 sq.ft) restaurant has a spaceship feel with its arched tunnel-like passages and shiny, orange surfaces. Adding to the space shuttle ambiance are the glowing, lighted custom tables and the laser-thin light-strips accentuating the edges of the arches that pre-existed in the space.
With the startling, futuristic design, Masquespacio is looking to transport the diners not only through culinary experiences but also through time and space.
Ichi Station describes itself as a place that was born as a crossroads of cultures, discovery and sharing. A departure and arrival and a journey of the senses that blends Japanese tradition with inspirations from countries around the world.
The food offering is created by Japanese master chef Haruo Ichikawa. He was previously the chef at Milan-based Michelin-starred Iyo. Today, he is also involved, for example in the Magnolia GastroBar at the Four Seasons Hotel Firenze.
Masquespacio was founded in 2010 by Ana Milena Herndez Palacios and Chistophe Penasse. Their award-winning studio works globally in all aspects of design, form commercial spaces to product design. A typical characteristic of their work is their bold use of colour. We have covered several of their projects over the years, here & here. – Tuija Seipell
Photography Luis Beltran