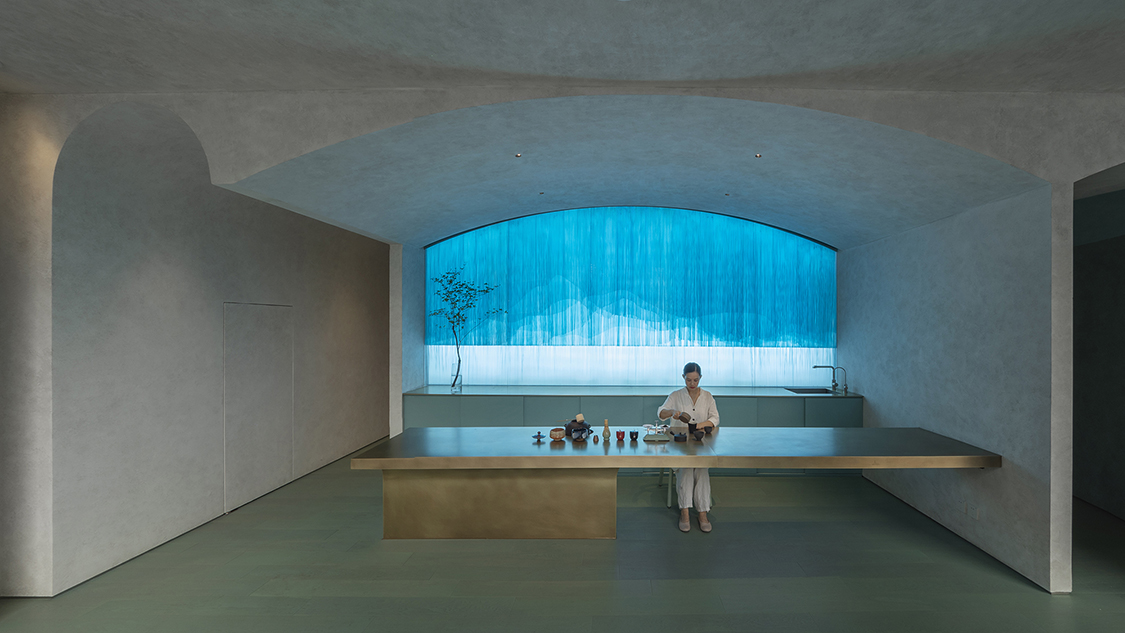 Aqua Health Clinic is located in Beijing's fashionable Sanlitun area known for its fashionable restaurants, nightlife and shopping that includes international brand-name stores such as Apple, Armani and Rolex.
The clinic combines traditional Chinese medicine with modern approaches. It uses today's cosmetic spa technologies and combines them with the ancient traditions to design personalized treatments to relieve physical and psychological fatigue.
For the design team at Waterfrom Design the task was to create today's update of the smelly and dark ancient medicine environment and bring it, combined with a modern spa vibe, to a new, brighter and cleaner era.
However, the traditions and visual cues of the ancient medicine are not hidden. Instead they are displayed in artistic and museum-like ways through a concept the designers call Exhibition of Frozen Time. For example, there is a massive glass-encased wall installation that displays almost 100 different Chinese medicine plant and mineral specimens. Touches of Chinese writing, symbols of nature and earthy materials are juxtaposed with harder, modern components.
The 280 square-metre (3,013 sq. ft) space includes separate areas for reception, display, waiting, skin examination, facial care, hair care, body care, TCH clinic and bar, plus staff area and storage. The overall atmosphere is ethereal and light with the intention of helping the clients detach and slow down and yield to the cues provided for their senses. Floor-to-ceiling windows and a minimalist colour palette add to the sense of openness and calm.
The tea bar area uses six layers and tens of thousands of acrylic rods in different shades of blue specifically lit to evoke the rhythm of mountains, rain and fog.
Waterfrom Design was established in 2008 in Taipei by Nic Lee who is a graduate of the Pratt Institute in New York. Waterfrom has offices in Taipei, Taiwan, and Shanghai, China. Tuija Seipell.