Good coffee was not on an average consumer's radar in 1971, when the story of the brand now known as Starbucks began. This was the case especially in North America where coffee culture was nonexistent.
That all started to change when Howard Schultz bought Starbucks in 1987 and started its expansion outside Seattle with the first outside the U.S. store opening that same year in Vancouver, British Columbia, Canada.
Today, Starbucks is the largest coffeehouse company in the world with about 23,500 stores in 65 countries. With the changes in lifestyles around the world, Starbucks's idea of the local coffee shop being the 'third place' between work and home has really become a reality.
Working, meeting and cooperating at coffee shops has become the norm, as has the lingo of special coffees as customers around the world order tall skinny lattes fluently.
What Starbucks has also done is open the market for smaller specialized coffee shops for those markets where the giants don't want to go, and for those customers who don't want the same old, standardized stores, at least not all the time.
As a result, we see daily examples of new, stylish, individual and small-chain coffee shops that manage to feel appealing even to the consumers that are by now completely coffeed-out.
And, Starbucks itself creates original concepts to fit special locations.Leaving no market or location un-Starbucked, the brand opened an amazing shop at the main entrance to the Dazaifu Tenman-g, one of the most revered Shinto shrines in Japan.
About two million visitors a year trek to the shrine, established in 919 A.D. To match the task at hand, Starbucks recruited the 60-year-old Japanese master architect and master of the wooden slats, Kengo Kuma.
Kuma used 2000 wooden slats to weave a latticework structure that encases the entire four-meter (13 ft.) high space, creating a nest or a cave. The latticework reflects traditional Japanese architecture and fits harmoniously among the traditional buildings of the area.
In the last decade, we have covered many coffee shops that stand out. These include D'Espresso
that opened in 2010 in New York and made waves with its startling floors and ceilings covered in images of books. The Manhattan-based designers at Nemaworkshop took their cue from the nearby New York Public Library's Bryant Park branch and went delightfully bookish.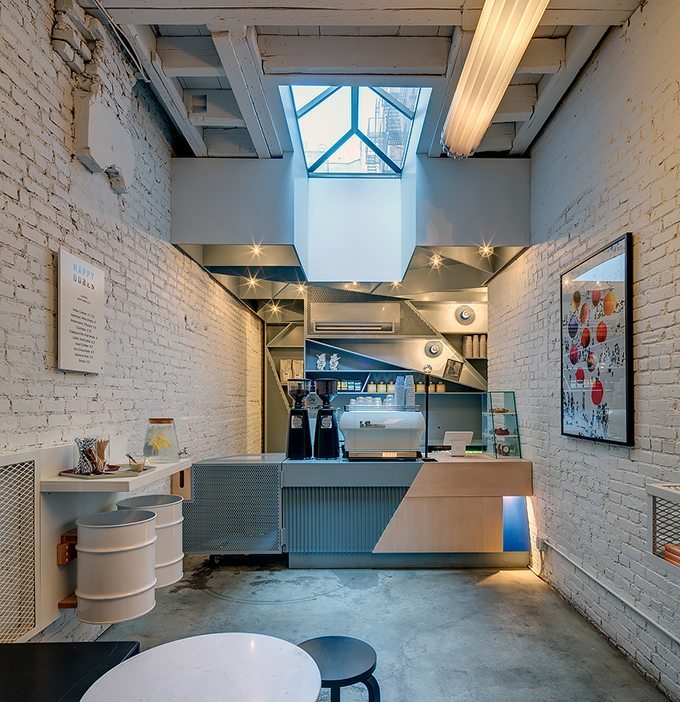 Originally, in 2012, Harwood and artist Jason Woodside satisfied their obsession with great coffee in a space at the back of a retail boutique on Bond Street.
Then Harwood and Woodside were joined by New Zealand's power couple Craig Nevill-Manning (Google's engineering director in NY) and wife Kirsten (previously of Facebook and Google) and now Happy Bones is its own independent little box offering espresso, art publications and an eclectic mix of retro design pieces.
We love the white-painted brick walls that make the little shoebox seem so bright and clean.
The three-store Coffee Bar group in San Francisco is one of the showcases of the coffees of Mr. Espresso, a well-known Bay Area roaster.
Coffee Bar's tiny Kearny Street shop by Jones Haydy sits right at the entrance to a large parking garage and caters to the busy people of the Financial District.
It is also located on a stretch of street that has suffered from vacancies and neglected lots, and the store is optimistically attempting to bring life back to the area.
Adorned with lovely wooden walls, some of which are scorched with the Japanese Shou Sugi Ban technique that prolongs the life of the wood, the shop still retains the slightly rough industrial air with its minimalistic furnishings and exposed-concrete features.
Another San Francisco favourite is the three-location Sightglass Coffee Bar & Roastery.
The flagship coffee bar, company headquarters and roaster are now located at 270 Seventh Street in San Francisco's SoMa neighbourhood in a restored building dating back to 1925.
The building remains unchanged outside – it's still an ugly concrete cube – but the inside exudes the company's artisanal expertise and obsessive focus on all things coffee.
The fabulous, multi-level building took its new shape through cooperation between Sightglass owners Justin and Jerad Morrison and Seth Boor of Boor Bridges Architecture.
Saint Frank Coffee is yet another great San Francisco renovation, located in the historic Russian Hill neighbourhood at 2340 Polk Street.
The boxy shape of the space is nicely divided with wood paneling and bright white walls that draw the eye to the center of action – the white coffee bar.
This shop is the handiwork of Amanda Loper of David Baker Architects and Ian Dunn of Open Scope Studios.
Far from San Francisco's coffee culture, Origo Coffee Shop in Bucharest, Romania, features the same kind of great restored surroundings and smooth expanses of wood paneling.
Local architecture and design studio Lama Arhitectura discovered beautiful wood beams underneath the layers of plaster and these beams became the hanging posts for the 270 teacups that hang above the bar.
The space is a coffee shop by day and a bar by night and the solid-oak bar can be raised from sit-down height to stand-up height accordingly.
Paris is also renewing its coffee culture among stiff traditions and competition. The creative minds at L'Hôtel de Vendôme in Paris set their eyes on "High Coffee." They don't call it that, but it certainly looks and feels like it.
Every afternoon, superior gourmet coffee varieties are served accompanied by dainty carts full of mouth-watering sweet delicacies created with the supervision of Luc Debove, Chef Pâtissier of the Grand Hotel of Cap Ferrat.
Adding to the High Tea feel, the coffee is served in the hotel's deliciously prissy first-floor restaurant, with its magnificent views of Place Vendôme. When the restaurant opened in 2009, it was Florence-based architect Michele Bönan's first restaurant and hotel project in France.
The two men leading the Paris coffee revolution are Frenchman Antoine Netien and his Australian partner Tom Clarke. They opened their first Café Coutume in Paris in 2011, and brought a cool and playful sense of 'science' to the coffee shop.
Clean white surroundings, glass beakers and coffee origins marked in scientific-like abbreviations, such as 'Gu' for Guatemala.

They have since expanded in France and recently opened their first Japanese café in Tokyo's Aoyama district.
To design this store, they invited CUT Architecture  that designed their original flagship and the coffee cart for the Finnish Institute in Paris.
The Tokyo store repeats the science theme with white tiles, glass beakers and a lovely pattern of squares everywhere. The ceiling lattice and lighting, the shape of the tables, the shelving, the tiles, all bring a sense of order and harmony. Tuija Seipell